Product roles are pretty new. Many companies are hiring more and more of these roles, and they are often very different from one organization to another. However, there are some common tasks across companies.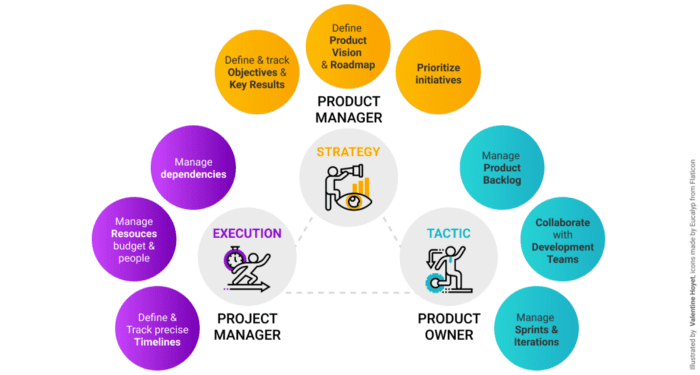 A Product Manager is defining the Strategy. He spends most of his time speaking with his users and stakeholders to get a deep understanding of his market.
After defining — with his stakeholders — the expected outcomes and aligning the company and the team in this direction, he is actively working at identifying and prioritizing opportunities to reach these expectations. We often expect clear communication of Objectives and KPIs tracking from Product Managers.
This role implies a vast range of tasks, but the following are the main duties of a Product Manager:
Creating the product vision, the high-level business goal
Defining the product strategy (high-level priorities to reach market opportunities)
Creating a high-level roadmap
Conducting or reading user and market researches
Defining and tracking Product success
Interested in becoming Product Manager, or to learn best practices and proven methodologies to be an effective Product Manager? Click here to learn more about our Product Management Online course.
A Product Owner is focused on the Tactic. He is more oriented on day-to-day actions. It's a role created by the Scrum agile methodology, mainly oriented toward Software development team management.
When the Product long term strategy is defined, the Product Owner will prioritize the details of every feature and detailed actions to execute this strategy. His job is to lead the Development team in the right direction and help them overcome roadblocks by finding alternative paths that still serve the strategy.
While tasks may vary from company to company, some of the most common Product Owner's tasks are the following:
Refining the Backlog (prioritization, estimation with the team, and clean up)
Writing user stories
Working around technical challenges with the team
Managing priorities for the sprint
Organizing initiatives with technical constraints in mind
A Project Manager is managing the Execution. He is ensuring that a project is delivered in the agreed time frame, with the agreed budget.
This role is more often seen in bigger and more complex companies. He will identify dependencies and then manage them in a meaningful way.
He is also here to ensure that the timelines are realistic by managing people and real-life events: holidays, sickness, etc.
Every company has different expectations from Project Managers, but they often rely on them for the following tasks:
Budget management
Precise planning (timelines, team capacity tracking…)
Dependencies highlighting and management
Delivery tracking
We described multiple Product Management related roles. Depending on the organization and company size, it may happen that one person is doing multiple roles at the same time. It's very hard to say if it's a good or bad thing as it depends on various details (company context and maturity, team size, delivery requirements, etc.…).